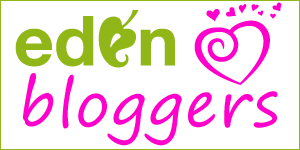 I wanted to share something a friend once shared with me it's called the
Eden loves bloggers program
. eden fantasys was one of the first companies that gave me a chance as new blog /blogger . Working along side eden fantasys has been so much fun I receive a new product to review each month try them out and write my review on the item. Another great part about doing the reviews is that you have the freedom of doing things your way if you want to do a simple review or you can even make it into a erotica. I myself like to add a few tips on how you can use the product in different ways or scenarios. I have never felt pressured to do things a certain way I have always had fun working with Eden fantasys and I hope to be working with them for many more years.
Becoming a part of the blogger program at eden fantasys has been one of the best decisions I have ever made for so many reasons. Building my blog, building my
sex toy
collection and bettering my sex life are just a few of the ways this program has affected my life.
There isn't one thing I would change about this program my coordinator has been great about answering all of my questions and seeing that I get a new product each month to review . I hope that if you have a blog or are thinking about starting a blog you keep the Eden loves blogger program in mind I promise you won't regret it.
This product was provided to me free of charge by Eden Fantasys in exchange for an unbiased review. This review is in compliance with the FTC guidelines.